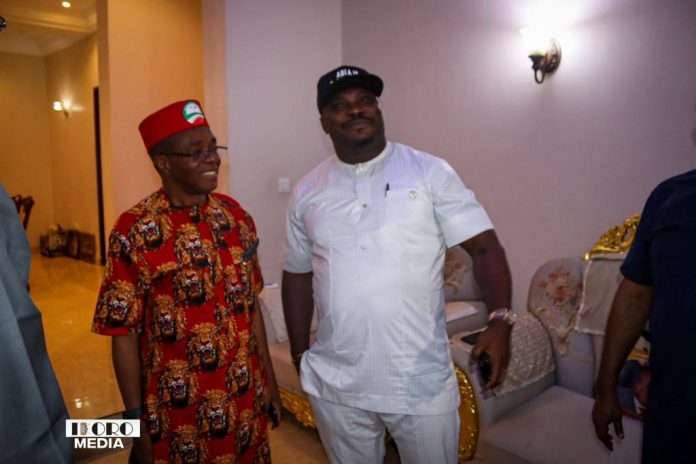 ▪️Top community leaders, Party chieftains, women groups, others, celebrate, pledge continued support
▪️ Mammoth Crowd Receive Igbokwe (Don Lulu) At Airport Reiterates His Commitment to the PDP
▪️ Elites declare Him Future of Ohuhu Leadership
A huge crowd of party supporters, women and youth leaders trooped our in their numbers amid traditional drumming and singing, feted businessman, philanthropist and Abia PDP chieftain H. E Mayor Lucky Igbokwe (Don Lulu) to a grand reception as he returned to his Umuawa Alaocha community in Umuaha Abia state after a long spell from home, on vacation from the last guber primaries in the state.
The elated businessman , philanthropist and politician expressed joy at the rousing surprise reception saying it was a morale booster
He assured them that their labour of love will not be in vain .
Mayor Igbokwe called on his team of supporters to keep faith with the People Democratic Party gubernatorial candidate, Prof. Ikonne and other candidates of the party in the general elections.
He posited that among the candidates vvying for the Abia Guber seat, the PDP candidate, Prof Uche Ikonne remains the most credible.
Mayor Igbokwe who came second in the guber primaries reiterated his commitment to the PDP. and encouraged his supporters not to be discouraged by that outcome, but to take it in the spirit of sportsmanship and throw their full weight behind Professor Ikonne, whom he described as a man with vision, capacity, and competence who has come to change the narrative.
According to Mayor Igbokwe, "having taken time to study Ikonne's impressive records in ABSU and ABIAPOLY, where he has superintended, his antecedents and manifesto, I am convinced that he's the man that will give us the Abia we all will prosper in and be proud of".
Continuing, he said politics is about negotiation and I am here to stand in the gap for you and to make sure that whatever is due to you gets to you"
Among the dignitaries and party faithfuls who came to welcome him include; Hon Okechi Utah, Chief Lucky Akabuike, Hon. Chidiebere Nwachukwu, Hon. Bob Agbugba (Abomark), Chief Kingsley Megwara, Hon. Bello, (De Latinos), Hon. Anayo (Iceman) among other prominent leaders.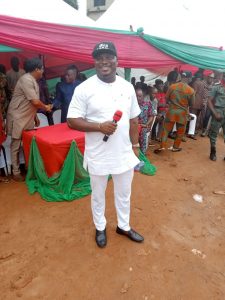 Speaking during the event, the former chairman of Umuahia North local government Chief Chidiebere Nwachukwu expressed confidence that His Excellency Lucky Igbokwe will carry the entire Ohuhu people along in his future political dealings and negotiations.
In the same vein, the former General Manager of Aspimss Chief Kingsley Megwara praised Igbokwe for making the entire ikwuano Umuahia people very proud.
He stated that Mayor Igbokwe ran a clean and inclusive campaign and reminded him about the need to position Ndi Ohuhu at all times.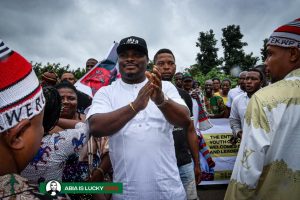 "The future of political leadership in Ohuhu land belongs to you as an emerging leader of the young political class. We will give you our support at all times as you carry us along." he stated.
Others who spoke included the Deputy Chairman of Umuahia North Hon Bob Agbugba, Chief Ejikeme ikwunze , Chief J . U. Nwachukwu among others.
The Deputy Chairman of Umuahia North Local Government Area Mr. Bob Agbugba assured Mayor Igbokwe that the people are with him, he said with a leader like him around Ohuhu and indeed Umuahia north, we are sure of victory for the PDP"
Mayor Igbokwe was later hosted by the PDP governorship candidate Prof. Uche Ikonne in his Umuahia residence where Prof Ikonne reiterated his commitment to work with him and other credible Abians to deliver a greater Abia by making sure he creates an enabling environment for investors to come in. He said Abia needs fertile and productive minds and he is going to work with the best of hands and that's the reason for his proposed Participatory Governance structure.
In his response, Don Lulu appreciated Prof Ikonne for hosting him and his team while reiterating his commitment to working with him to build a better and prosperous Abia that works for all