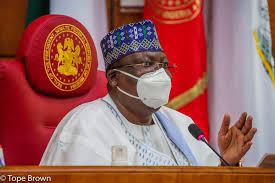 The President of the Senate Ahmad Ibrahim Lawan has said the Senate voted for electronic transmission of election results with conditions in defence of Nigerian voters whose votes may not be counted with immediate deployment or application of electronic transmission of election results.
The Senate had last week while considering the Electoral Act Amendment Bill, voted that "The Independent National Electoral Commission (INEC) may consider electronic transmission of results, provided the national coverage is adjudged to be adequate and secure by the National Communications Commission (NCC) and approved by the National Assembly."
Lawan who spoke with newsmen at the weekend while on a constituency visit to his Yobe North Senatorial District said it was wrong to conclude that Senators who voted for electronic transmission with conditions did not like the results transmitted electronically.
He said the votes cast on either side of the subject matter cut across party lines and regional divides.
"When the majority of Senators voted against immediate application or deployment of electronic transmission of results from the polling units, to the ward, to the local government, states and federal, they didn't say they do not believe in electronic transmission (of election results).
"All of us in the Senate, 109 of us, believe that at one point, our electoral process must deploy electronic transmission so that it eases and enhances the electoral process and give it more credibility and integrity.
"But you see, when you have not reached that stage where you could deploy the electronic transmission from every part of the country, then you have to be very careful. And no matter what anybody may say, you cannot have about 50 percent of Nigerian voters not participating or not getting their votes counted in elections and say it doesn't matter, that we have to start the electronic transmission.
"We know the evils of not transmitting results electronically but compare the evils of electronically transmitting just half of the electoral votes from Nigerians and say you have elected a president with 50 percent only.
"And others have voted but their results or their votes could not be electronically transmitted. This is disenfranchising Nigerians and we are not going to support this kind of thing," he said.