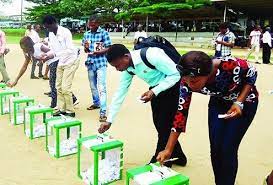 The Senate has passed the Electoral Act (Amendment) Bill.
This followed a clause-by-clause consideration of the report of the Committee on Independent National Electoral Commission (INEC).
Senators were divided along party line during the consideration.
The bill, as passed by the Senate, empowered the Nigerian Communications Commission (NCC) and the National Assembly to decide on the electronic transmission of results during elections.
Stormy session
The Committee had, in its report, recommended in Section 52(3) that, INEC "may transmit results of elections by electronic means where and when practicable."
But the clause was altered after the Senate approved an amendment sought by Senator Aliyu Sabi Abdullahi (APC, Niger).
Abdullahi said INEC "may consider electronic collation of results provided the national network coverage is adjudged to be adequate and secured by Nigerian Communications Commission (NCC) and approved by the National Assembly."
Senator Ali Ndume (APC, Borno) seconded the amendment, while Senate President Ahmad Lawan ruled in favour of the amendment after a voice vote.
This resulted in a rowdy session, which lasted for several minutes.
However, effort to restore the earlier provision in the contentious clause by Senator Albert Bassey Akpan (PDP, Akwa Ibom), through a motion was unsuccessful.
Lawan ruled against Akpan's motion after voice vote, a situation that resulted in another rowdy session.
The Senate President struggled to restore order but the uproar continued, forcing the Senate into an executive session, which lasted for about 15 minutes.
After emerging from the closed session, Senator Enyinnaya Abaribe invoked Order 73 of the Senate's rule and called for division.
Attempt by the Senate Leader, Yahaya Abdullahi, to appeal to Abaribe to withdraw the order 73 was not successful.
Voting
Senators, after a stormy session occasioned by the Aliyu Sabi Abdullahi's amendment, voted in favour of the alteration.
Out of the 109 senators, 52 voted in favour of the amendment; 28 voted against, while 28 were absent.
The vote went along party line as APC senators voted in favour of the amendment, while PDP voted against.
Those who voted against the amendment said INEC, as an independent institution, should not be made to be dependent on another authority in carrying out its mandate.
Those who voted in favour of the amendment said the rate of internet coverage in the country was still low.
They said retaining the provision in the report would disenfranchise millions of Nigerians, especially those in rural areas.
The Chairman of the Committee on INEC, Kabiru Gaya and Senator Michael Opeyemi Bamidele, a member of the Committee, voted against the recommendation of their panel report.