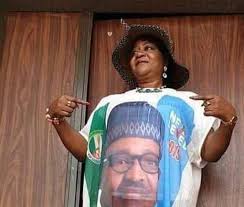 The Senate has rejected Lauretta Onochie as a National Commissioner of the Independent National Electoral Commission (INEC).
Onochie was rejected following the consideration of the report of the Committee on INEC, chaired by Senator Kabiru Gaya, (APC, Kano).
The Senate also stood down the approval of Professor Sani Mohammed Adam till further legislative action.
The panel recommended Onochie's disqualification on the grounds that her nomination is in violation of Section 14 (3) of the 1999 Constitution on the Principle of Federal Character.
The committee said there is currently a serving commissioner from Delta state, where Onochie hails from.
Onochie's nomination had sparked a massive outrage from civil society groups, opposition lawmakers, and even some members of the ruling party.
Many had argued that she was "too partisan" to be a commissioner in an important institution like INEC.
When she appeared before the senate panel last week, the presidential aide was asked to respond to allegations that she was a card-carrying member of the ruling party but she had denied it.
Onochie had claimed that she stopped being a member of any political party since 2019 but reports showed that she lied.
President Muhammadu Buhari had refused to bow to the pressure of withdrawing her nomination.
Onochie was screened by the senate nine months after her nomination.
She was nominated alongside five others.