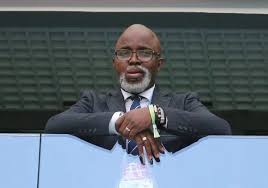 The President of Nigeria Football Federation (NFF), Amaju Pinnick, has barred the home-based Super Eagles players from signing contracts with low-rated European clubs.
He made this known when he visited the team during their training session in the United States ahead of today's clash with Mexico at the historic Los Angeles Memorial Coliseum (LA Coliseum).
According to the FIFA Council member, he would not approve any transfer from clubs from Cyprus, Belarus and even China, except to clubs like Real Madrid, Arsenal and Barcelona
"This is the launchpad we are providing for you guys now. No better are you going to showcase your talents. Don't play to impress me, play your game and according to the instructions of your coaches. Once you do that, you will be identified.
"I don't want to hear about transfers from all those nonsense clubs. You are our pride and we are going to keep you guys together and be waving you one by one. If you are going to Real Madrid, Barcelona, Arsenal, I will follow you so that they know you are very important.
"We will keep and monitor you as you are the next big thing in the Nigerian football. I don't want to hear Kano Pillars, Enyimba. You are Super Eagles. We want to expose you to the highest heavens and you want to go to China, Cyprus, Belarus.
"We will not allow it and won't issue transfer to any of you. If you are leaving Nigeria, you are going to top European clubs, not one mushroom club that you are better than. If you keep yourself low, you will remain low," he said.