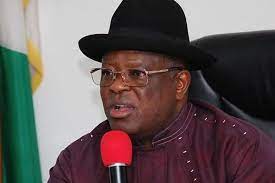 The governor of Ebonyi State, David Umahi, has said more of his colleagues from the Peoples Democratic Party (PDP) would soon defect to the ruling All Progressives Congress (APC).
He said this yesterday during a stakeholders' meeting of the party in the state, which was aimed at streamlining actions for the peaceful conduct of the party's forthcoming congresses in the state.
Umahi, who, last November, joined the APC, assured that the party would never go down in the state.
The governor blamed the challenges facing the state, especially insecurity, on the stakeholders' lack of close relationship with their various communities, as well as selfishness.
"We are making progress, working very hard to see how we can get favours from the central government. The APC will never go down in Ebonyi State. We are still going to get several governors that will join the party in the months ahead," he said.