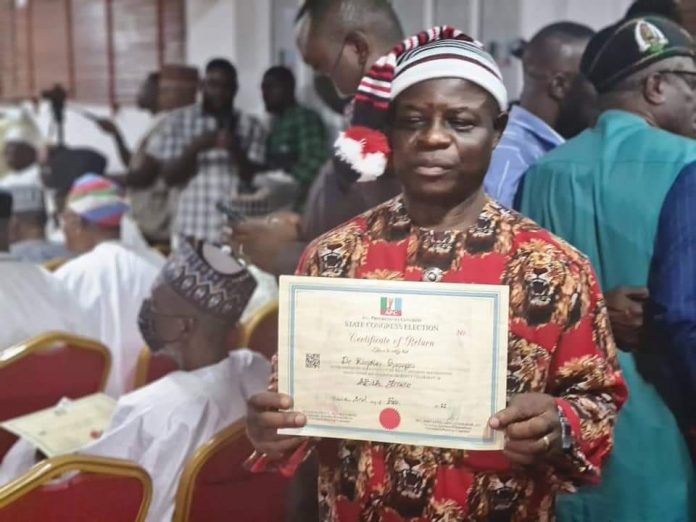 The newly elected Chairman of All Progressives Congress Abia State Chapter Dr. Kingsley Ononogbu has been sworn in.
Recall that the Chairman elected during the state Congress Mazi Enyinnaya Harbour had died before his swearing in, giving room for a bye-election, wherewhich Dr. Kingsley Ononogbu was duly elected to replace the deceased.
The inauguration of Body of State Chairmen for the Party was performed by National Chairman of Caretaker and Extraordinary Convention Planning Committee, (CECPC), Gov. Mai Mala Buni and witnessed by eminent leaders and other Major Stakeholders of the Party.
In his Inaugural Speech soon after being inaugurated, the New Chairman Of APC Abia State, Hon. Dr, Kingsley C. Ononogbu dedicated the inauguration to all members of the Party in the State.
He specifically thanked the Chairman of the Party's Caretaker Committee and other members and the Leader of the Party High Chief Ikechi Emenike and other Major Stakeholders of the Party in the State, for their efforts to repositioning All Progressive Congress (APC) for victory both at the National level and Abia State during the 2023 General Election.
He reassured members of the Party in the State, that "your confidence and vote for me is a vote for integrity, capacity, experience, loyalty, effective and purposeful leadership which I will be intentional in bringing to bear the discharge of my responsibility and role as the Abia State Chairman of APC."
"However, let me reiterate here that it is a collective responsibility and as such, I urge us all to work the talk and show enough commitment to achieving our collectively desired goals.
Let us all show our strength in our polling units and wards. A stakeholder or leader who is not known nor has a political influence in his community or circle of influence is of no electoral value to the party.
"With regard to the fate of our estranged party members, the door remains wide open for all such members to return to the Abia APC family and make their individual and collective positive contributions to ensure the party's electoral successes in 2023 which is the bigger picture.
"I assure you all that our processes and procedures will be all inclusive as no member of the party will be discriminated against or humiliated. This is to say that we will all work collaboratively in the pursuit of our common goal.
"Permit me, however, to insist that the new APC in Abia State will not tolerate those who say they are APC during the day but work for PDP at night. Some are PDP in Abia State and APC in Abuja. It is criminal to belong to, or even remotely work for, two political parties at the same time. This must stop.
"Once more, I reassure you all that I will not relent nor disappoint you in my role as APC Chairman in Abia State. I urge you all to hold steadfast to our principles, as our destination is in sight. We will work assiduously with all genuine stakeholders and other leaders, and with my role as that of a unifier, we shall soon get there.
" At all times, I shall be guided by the principles of excellence, inclusivity, hardwork and victory
"For our elites who are still sitting on the fence, I urge you all to come on board and join hands to liberate, rescue and reposition Abia State.
He insisted that the State can only be transformed if a critical mass of competent Abians take charge of governance.
"The solution to the embarrassing governance situation in Abia State cannot be in staying within our comfort zones, staying away and complaining in our bedrooms. In the words of Plato the great philosopher, the penalty good men pay for indifference to public affairs is to be ruled by evil men.
Dr Ononugbu who referred to the writing by Edmund Burke that states, "The only thing necessary for the triumph of evil is for good men to do nothing". Together, lets change the Abia narrative
"In conclusion, I call on all Abians of all creed and class to embrace this brand new APC and join in this quest to change the currently ugly status of Abia State for good."
The revered banker was presented with his certificate of Return alongside other Chairmen across the country as the authentic chairman of the party.
This puts paid to every kind of faction and duplication of party Executive across the state as this action authenticates him as the sole and only recognized Chairman of the party.