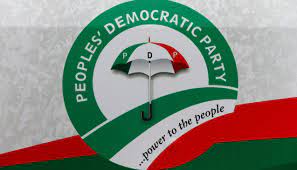 The Abia Central PDP Zonal Chairman, Chief Chukwudi Ezebuiro has frowned at the recent clandestine meetings and attendant communiqués flying around on the issue of the successor of Dr. Okezie Ikpeazu.
In a Press Statement signed by Chief Ezebuiro and sighted by ABIAPULSENEWS, the party chieftain stated that the focus of every genuine PDP member should be to "encourage our amiable Governor…in his current infrastructural development across the zones and ensuring the party finishes strong."
Read Full Text of Press Release:
ABIA GOVERNORSHIP 2023: ABIA  CENTRAL PDP ZONAL CHAIRMAN FROWNS AT THE CURRENT HEATING UP  OF THE POLITY AHEAD OF 2023 GOVERNORSHIP ELECTIONS.
The PDP abia central zonal chairman is of view that all hands should be on deck to support and encourage our amiable governor Dr. Okezie Victor Ikpeazu in his current infrastructural development across the zones and ensuring that the party finishes well and strong ahead of 2023 rather than heating up the polity and distracting  the focus on good governance.
The issue of which zone should produce the next governor is a party affair. The current bickering and undue heating up of the polity is uncalled for and should cease in order preserve the unity of the party and zones respectively.
The focus now should be building a united PDP across the zones and consolidating on our achievements as a party. Abia PDP has remained one united family and at the appropriate time our leaders, caucus and stakeholders will galvanize the required consultation that will resolve the issue of governorship ahead of 2023.
HON. CHUKWUDI EZEBUIRO
ABIA CENTRAL PDP ZONAL CHAIRMAN