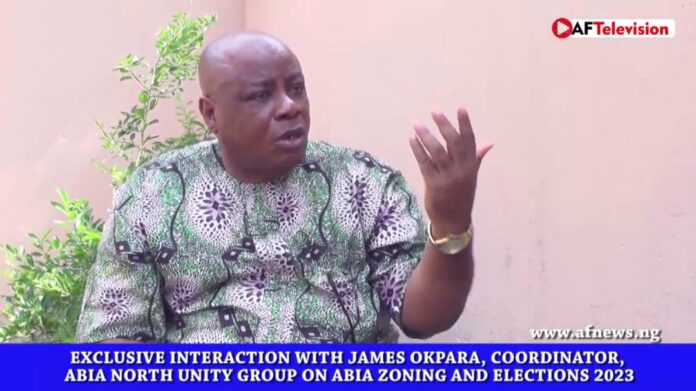 The Abia North Unity Group, a sociopolitical organization championing the return of power to the zone come 2023 has insisted that Abia North had an understanding with all the leaders of Abia South that power will return to Abia North if they support Ikpeazu to do his 2nd term in 2019.
Speaking to journalists in Umuahia, the cordinator of the group, Barr James Okpara stated that at the appropriate time, they expect these leaders to speak up.
Read Full Text of the interview:
You are the Coordinator of the Abia Unity Group, whats the group about?
All members are coordinators of the group, the difference is that once in a while, we designate a member to speak. We are equals in the group. Abia North Unity is focused purely on ensuring that a son or daughter of Abia North zone is sworn in as the governor of Abia state in May 2023, irrespective of LGA political party affiliation or primordial beliefs. This is the sole agendum of the group.
What is the justification for this drive for an Abia North son to emerge governor?
The reasons are multifarious. If we start counting why an Abia North person should be Governor in 2023, there will be no space to carry it. The reasons are based on fairness. It based on progress, development and stability of Abia state. This because Abia is founded on a charter of equity and rotational governance; when this zones takes a bite on the governorship position, another zone takes the next time. In Abia , we have three zones; we have Abia North, Abia Central and Abia South. The first zones that took the governorship seat was Abia North through Chief Orji Uzor Kalu , followed by Abia Central with Chief Theodore Orji and currently, it is in Abia South through Dr. Okezie Ikpeazu. Therefore, at the end of Gov. Ikpeazu's tenure in 2023, you will find out that Abia North has been out of power for 16 years. If any person who is not from Abia North takes over power in 2023, and by the time, the person is through with power in 2031, Abia North would have been out been out of power for a over a quarter of a century. When you are talking rotation and every zone has taken a bite, common sense and fairness dictate that the zone without power for a long time should get it. Abia North has the manpower just like other zones. Most people from Abia North who were involved in governance in 1999 are still around and you can't rule out such huge experience. They know where mistakes were made, how it can be corrected and how to attract more development. In the interest of peace, fairness and justice, no zone should have the governorship position in 2023 than Abia North. All the indices favour Abia North to take the governorship.
Several groups are also campaigning for an Abia North governorship in 2023, how can you synergize with groups to achieve your aim?
Our membership cuts across all the five LGAs of the Abia North zone. Our meetings are held on LGA basis. No individuals owns Abia North Unity group. It is not based on any individual. We are self funded, not sponsored by anybody. At this stage, nobody is talking of the person or LGA to produce the candidate because there is no need for it at the moment. We have to start to say it must be Mr. A or B or LGA A or B,that will mean placing the cart before the horse. The issue of which son or daughter of Abia North becomes governor in 2023 is open for the entire Abia state to decide. We are on the same page with any group working for the emergence of an Abia person as governor in 2023.
There are other opinions that power should be shared between Old Bende and Old Aba zone, that the latter must complete the 16 years taken by Old Bende zone. What's your take on this?
This is a misconception that people have about the situation in Abia. Old Aba Division is also known as Ukwa/Ngwa. There is something called Old Bende and Old Aba zones. Old Bende as we know it extends to the Abia South zone. At a time, it extended up to Onitsha, Anambra state. Most places in Igbo land you know in Igbo land except perhaps, Imo state use to be under Old Bende. The story of Omenuko was written in Old Bende language. What we take as central Igbo is old Bende language. But today, what we have under the laws of Nigeria are senatorial zones. If you are talking of Bende, there is also Ukwa/Ngwa, why won't you talk about an Ukwa man doing eight years to complete sixteen years for Old Aba zone? Why are they not mentioning Ukwa, are they not part of Old Aba zone? Is Ukwa not part of it? There are two distinct blocs in Old Aba division; Ngwa and Ukwa. By 2023, Ngwa would have taken their turn for 8 years. Going by the argument such people are bringing, why can't they call Ukwa people to take eight years to complete the 16 years for Old Aba division? Old Bende division does not exist anymore as a creation of the law. What we have is senatorial zone, and that's the basis for sharing power according to the constitution of Nigeria.
What is your assessment of the Gov. Ikpeazu's administration?
What you see in Abia state today is more of a team work led by the Governor. Only someone who is biased who can say that Gov. Ikpeazu has done nothing. The Governor has done someone that can be seen.Gov Ikpeazu has done well but the level of negative propaganda against his administration is shocking. The issue in Abia is that the peddlers of this propaganda feels that if they or their brothers are not in power, then the government is not doing anything. If you have 20 roads in a place, no government can build them at a time. What these people do is to take pictures of the few not done and begin to say that the governor has not done anything. We must not continue to de-market our state. The vocal minority in Abia have taken this negative social media warfare as a pastime.The opposition believes that they must destroy the state to get power. Abia is the headquarters of the social media war against the government, but we thank God that Gov. Ikpeazu has refused to be distracted. The Governor has done perfectly well with available resources. We should commend the Governor for sourcing the resources to improve on what he met. Most of our people don't even pay tax.
Abia is one of the states with a history of conflicts between Governors and their deputies, how do you look at the relationship between Gov. Ikpeazu and his Deputy, Sir Ude Oko Chukwu?
I have said earlier that the progress Abia has made is as a result of team work by the Governor and his team. I have noticed the virtue of humility in the Governor and Deputy. Both are exceptional personalities, this is why there has never been a problem between them. In any relationship where is too much ego, it doesn't work. The humility has led to friendship and cordiality. It is unusual in this clime to hear of a Governor and Deputy staying almost their term without any clash. This also tells you how they are running the state. There must be only one Governor at a time. The Deputy Governor understands this, that Governor is his superior and boss. And also, Ikpeazu through his humble approach to governance understands that he has a deputy and should treat him right. It is an issue of interpersonal relationship which has blossomed because of the outstanding personalities of the Governor and his Deputy. You can also talk about their vision to develop Abia. Perhaps, the education level of the persons played a part. Abia is lucky with the type of Governor and Deputy they elected.
Some people accuse the Governor of concentrating projects in Aba and neglecting Abia North?
This comparison is highly unfair, Governor Ikpeazu is the father of the state. I believe he knows and thinks the best for Abia State. You know the position of Aba to Abia state.Aba is the major revenue earner and home of SMEs. If we get Aba right, we have also gotten Abia state right. I strongly believe that this is why the Governor has committed so much to put Aba in shape. You can see that Aba's fortunes have increased and Abia state is better. Im aware that the Governor is doing many projects in Abia North, some of them have been completed, some are ongoing.
Ahead of 2023,what is your word to other zones in Abia?
We must avoid anything that will cause restiveness in Abia. That an Ngwa is Governor of Abia today, is also to the credit of Abia North.We stood our ground and insisted that Abia South must take their turn. Most of us from Abia North sacrificed to ensure it went to Abia South. Governorship contest is not based on might or money; it is mostly based on trust and goodwill. Abia North extended goodwill to their Abia South brothers. Im aware of a mammoth rally in Umuahia that was addressed by the then outgoing governor, Chief Theodore Orji, appealing to everbody to support Abia South for the 2015 governorship. And it went along way. Abia North people were fair and just. I doubt whether there would have been peace and justice if somebody from Abia North did not emerge Governor of Abia. The problems were already gathering. I was just like in 1999 that Nigerians insisted that the President must come from the South and everybody agreed for peace and justice. Two weeks to the 2019 governorship election, all the elders of Ukwa/Ngwa land visited Abia North to seek our support for Gov.Ikpeazu's second term. The traditional rulers of Ukwa/Nkwa also paid a visit to their counterparts in Abia North for the same purpose. The message was; support our child for 2019 , in 2023, it we will support Abia North in 2023. It was undertaking. Except one or two elders, all elders and monarchs who were part of the visit are still alive and have not denied it. So, all you hear about zoning of the governorship is all noise. Therefore, In 2023, it will be the turn of our Abia South brothers to reciprocate the goodwill extended to them by Abia North in 2015 and 2019.