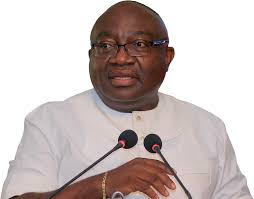 Sports loving Chancellor of Gregory University Uturu,Prof Gregory Ibe has congratulated victorious Enyimba International Football Club of Aba for advancing to the quarter final stage of the ongoing CAF confederation football tournament.
Speaking on the heels of Enyimba's late win over Orlando Pirates in Aba on Wednesday night, Prof Ibe praised the fighting spirit of the elephant boys that finally paid off with a 95 minute goal by Oliseme.
According to him," I am really proud of the resilient spirit of our Enyimba boys that enabled them overcome the stiff opposition of the Buccaneers in the dying minute of the game."
He therefore enjoined the team to double their efforts in the remaining stages of the competition in order to re-enact the continental winning streak of 2003 and 2004. In his words," Going forward you must work extra hard in order to rediscover the winning formular that made Enyimba the king of the continent in 2003 and 2004."
Prof Ibe concluded by appreciating Governor Okezie Ikpeazu "for inspiring Enyimba to victory through the reconstruction and equipment of Aba stadium, thus bringing it to international standards, especially with the recent installation of floodlights."
He promised to join forces with the Governor in raising and sustaining support for the team in their remaining games on the national and continental levels.
ProGIMA-Prof Gregory Ibe Media Associates.