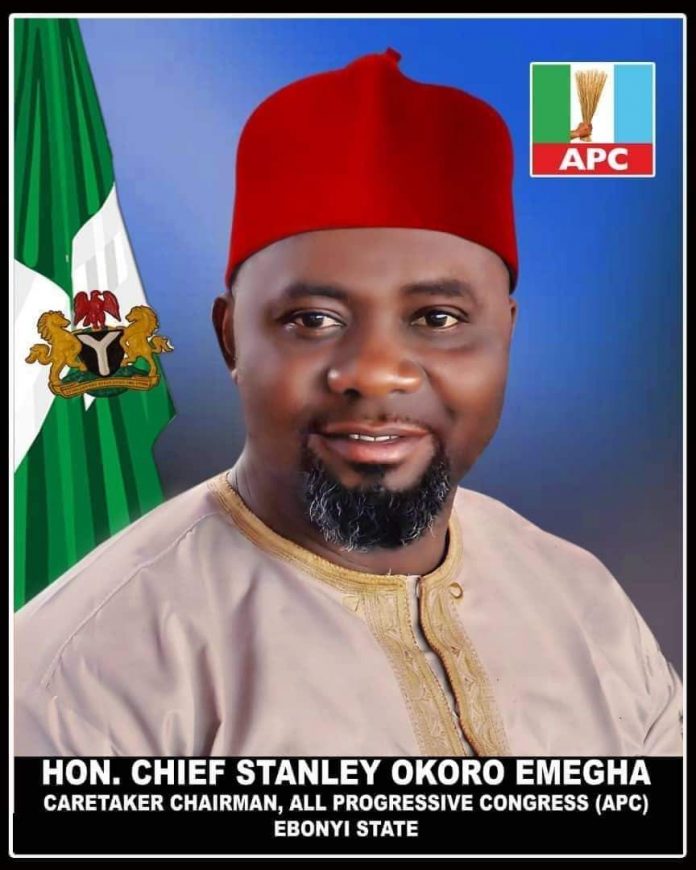 The caretaker committee chairman of the All Progressives Congress- Ebonyi state chapter Hon. Stanley Okoro Emegha has commended party faithfuls and stakeholders for the smooth conduct of party Ward Congress in the state.
In a statement signed by the chairman, he also thanked leaders for their support. Read Full statement:
On behalf of the Caretaker Committee of the All Progressive Congress (APC) Ebonyi State, we wish to sincerely thank His Excellency, Chief Engr. (Dr.) David Nweze Umahi, (FNSE, FNATE) Governor of Ebonyi State and leader of our great Party (APC) in the State, His Excellency, Dr. (Barr.) Kelechi Igwe, Deputy Governor of Ebonyi State, The Rt.Hon Speaker of Ebonyi State House of Assembly, Chief Francis Ogbonna Nwifuru, His Excellency, Dr. Ogbonnaya Onu, Minister of Science and Technology, His Excellency, Chief Martins Nwanchor Elechi, Former Governor of Ebonyi State, Hon. Chinedu Oga, member of Federal House of Representative, His Excellency, Ambassador Nwannebuike Ominyi, Nigeria High Commissioner to Republic of Zambia, Deacon Austin Umahi (Anyanwu ndi Igbo) and indeed all critical Stakeholders of our Party at all levels of Government from Ebonyi State, for their immense contributions for the peaceful conduct of the recently concluded ward congress in Ebonyi State.
We also commend the efforts of members of the Ward Congress Committee (WCC) led by Deacon Ideato C. Ideato Okoli (Chairman Congress Committee) Ebonyi State and Alhaji Galadima Aminu – Danmalaki Sokoto (Secretary Congress Committee) and as well as members of the Local Ward Congress Committee (LWCC) for their Commitment, transparent and credible management of the ward Congress exercise.
We equally thank all members of the APC family in Ebonyi State for their support, active participation and display of exceptional maturity during and after the Congress exercise we wish to assure them of the readiness of. the leadership of the Party in the State to partner and provide the enabling environment and level playing ground for members to actualize their dreams and aspirations in all activities of the Party.
We wish to express our sincere gratitude to the independent National Electoral Commission, Ebonyi State for their guidance, and effective monitoring of the Congress exercise in Ebonyi State in line with their mandate and pray that God Almighty will continue to guide them in the discharge of their duties to the Nation.
We sincerely appreciate and commend the efforts of the Nigeria Police and other Security Agencies in Ebonyi State for providing adequate Security for the smooth conduct of the ward Congress exercise across the State.
Hon. Stanley Okoro Emegha
State Chairman
APC Caretaker Committee, Ebonyi State.