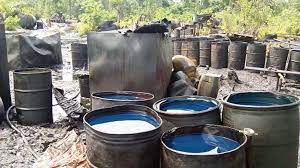 Men of the Nigeria Security and Civil Defence Corps (NSCDC) have raided an illegal refinery in the Rigasa area of Igabi Local Government Area of Kaduna State.
We gathered that the security operatives stormed the place on Wednesday night following intelligence that a presumed mechanic garage called Garejin Makorwa along Zaria road in Rigasa was being used as a crude refinery.
Our correspondent gathered that working with Private Depots Oil and Gas Marketers Association of Nigeria (PDOGMAN), civil defence personnel placed the garage under surveillance for almost a week before they pounced on the suspects on Wednesday night.
"They sell adulterated PMS to unsuspecting customers. Some people buy it for their cars or generators and then their engines knock," a source said.
At the time of filing this report, the garage had been sealed with men of the Nigeria Security and Civil Defence Corps stationed on guard.
Our correspondent gathered from residents that they had no knowledge that the garage was being used for illegal purpose.
One of the residents told our correspondent that all he knew was that the owner of the garage had been arrested by security agents after a misunderstanding but said it was not clear to him why they sealed his garage.
Our correspondent, who reached out to the NSCDC Zonal Commander, Zone B, Assistant Commandant-General, Dauda Mungadi, gathered that a number of workers had been arrested in the illegal refinery, but ACG said he could not give the actual number of those arrested.
ACG Mungadi said the suspects were nabbed for illegally refining crude oil for blue gas and adulterated PMS adding that the NSCDC was testing the samples while the area has been sealed off.
"We want to rid the state off these kinds of people who are encouraging vandalization of the nation's assets in the south-south.
"When you look at the danger to human lives, it is something serious, once the required component is not used, there can be an explosion," he said.
He said the state Commandant of the NSCDC has been directed to take necessary steps to test the samples while suspects will be prosecuted at the end of investigation