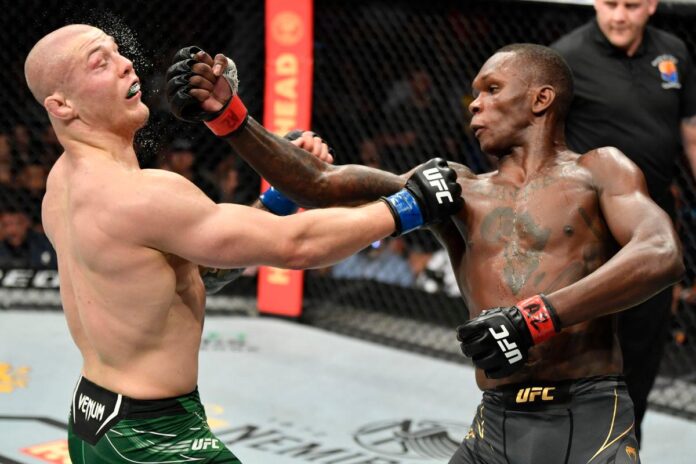 Israel Adesanya has beaten Marvin Vettori via unanimous decision (50-45, 50-45, 50-45) in the main event of UFC 263 on Saturday night at a sold-out Gila River Arena.
Vettori was one of his toughest middleweight tests but he removed all prior doubt to take the night in the entertaining rematch.
With the victory, Adesanya successfully defended his UFC middleweight title.
He evaded most of Vettori's big swings and takedowns, chopped him down with leg kicks and outboxed him with his hands.
Afterwards, Adesanya said Vettori told him in the Octagon at the end of the bout that he believed he won.
"You can keep thinking that," Adesanya said he replied to Vettori in his postfight interview. "Whatever helps you sleep at night."
Adesanya said he dedicated the win to his late training partner and friend, Fau Vake, who died last month from injuries he suffered in an alleged assault.
On April 14, 2018, Adesanya defeated Vettori by split decision, a close fight that was one of Adesanya's most difficult en route to the title.
Vettori believed he won that bout, which was the storyline coming into Saturday.
Adesanya and Vettori were vicious in verbal attacks Thursday at the prefight news conference, with Vettori having to be physically removed from the stage after he went after Adesanya.
"Even at the press conference when he stood up, I sat down because I didn't feel a threat," Adesanya said.
Vettori got a takedown early in the first round after he caught an Adesanya kick. That seemed to be a positive development for Vettori, who was looking to put Adesanya, a dominant kickboxer, on his back.
But Adesanya was able to get up and continue working his tactical, varied offence of combinations and leg kicks.
Vettori took Adesanya down again in the third and briefly had his back, looking for a choke. But Adesanya swept and got into top position.
In the fourth, Vettori got Adesanya to the canvas again, but Adesanya quickly swept to the top.
By the third round, Vettori's right leg seemed compromised and he lost some of his explosion, which was clearly part of Adesanya's strategy.
Adesanya was extremely hard to hit, and when Vettori did find him, Adesanya almost always fired back with a combination or a kick or both.
Adesanya had a career-high 41 leg kicks, according to ESPN Stats & Information research.
Adesanya has won 10 straight UFC middleweight fights, now the second-longest streak in division history behind Anderson Silva's 13.
His fifth title win is also second at middleweight to Silva's 11. Adesanya outlanded Vettori, 96-58, in significant strikes.
Adesanya came in ranked No. 3 on ESPN's pound-for-pound male MMA fighters list. At middleweight, Adesanya was No. 1 and Vettori, the hottest fighter in the division before Saturday night's fight, was No. 6.
Adesanya (21-1) picked up his third successful middleweight title defence. The Nigerian-born New Zealand resident is undefeated in the weight class.
He became undisputed champion by knocking out Robert Whittaker in October 2019.
Adesanya, 31, was coming off a loss to Blachowicz in a UFC light heavyweight title fight at UFC 259 on March 6.
In his last middleweight title defence, Adesanya outclassed Costa, stopping him via second-round TKO at UFC 253 last September. (ESPN)