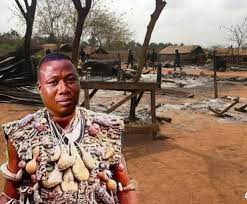 A settlement of some herders at Iraye village in Sagamu, Ogun State, has been razed down by the locals, following allegations of kidnapping.
Our Source athered that some locals at  Iraye, a village located behind NNPC Mosimi in Sagamu, had accused some Fulani settlers of being the brains behind the abduction of their people in the area.
Sources told our correspondent that the indigenes on Monday evening stormed the Fulani base and set it ablaze.
One person was reportedly injured in the attack, while others scampered for safety.
Our correspondent gathered that in a video clip which has gone viral, a voice was heard claiming that a farmer was abducted by some Fulani in the area.
The voice claimed that attempt to rescue the victim led to confrontation between the villagers and the Fulani abductors.
MACBAN chairman in the state, Abdulmumin Ibrahim Dende, confirmed the incident to on Tuesday.
Ibrahim said about five houses were burnt in the settlement while the affected Fulanis have temporarily relocated. He said no one died during the attack.
DailyTrust