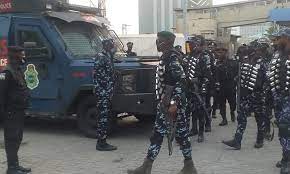 The Police in Imo State have said they repelled an attack on the police headquarters in the State by hoodlums on Sunday, killing five of the attackers in the process.
It was the second time the Imo police headquarters in Owerri would be attacked by gunmen since hostilities against security agencies started in Nigeria's Southeast region.
Recall that on April 5, some unknown gunmen attacked the police headquarters and that of the Nigerian Correctional Service, freeing 1844 inmates.
Police Public Relations Officer in the State, SP Bala Elkana, said in a statement that the hoodlums had invaded the facilities in the early hours of Sunday but met stiff resistance by operatives.
The statement by the PPRO said: "Hoodlums masquerading as unknown gunmen attempted an attack on the Police Headquarters this morning but suffered a huge defeat.
"They made effort to access the Police Headquarters through Works Layout around Avan Nursery and Primary School but were vehemently repelled.
"They came in a white Hummer bus. Five of the hoodlums were killed during an exchange of fire and others were injured.
"The Hummer bus is recovered. Four Ak47 rifles were also recovered," the statement added.