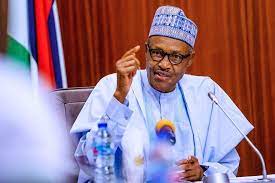 President Muhammadu Buahri says all his appointments are strictly based on merit and in accordance with his administration's zeal to serve Nigerians.
Buhari said this during an exclusive interview with Arise TV on Thursday morning.
Some critics of the Buhari administration have accused the president of nepotism.
After the death of General Ibrahim Attahiru, former Chief of Army Staff, Buhari appointed General Faruk Yahaya as his successor.
This has sparked another round of criticisms.
But during the interview, the president dismissed the claim as lacking in merit.
He stated, "Those who know the administration well know that we have appointed people from the South East into important position.
"We considered all the factors as well as personal experience and commitment before we arrived at this choice. If you want to the soldiers to be effectively led, you must bring someone who has been in the system and went to the field.
"We are fighting in different fronts. We need someone with ample experience who has been at the field.
'We reshuffled the country's security apparatus to augment our performance with regards to security. When they came in the first thing they did was to make consultation. And they are now in charge. We don't want publicize our gains, but we are recording success."