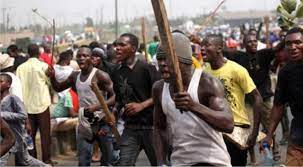 Four Fulani herders among them a community leader have been killed by suspected members of Oodua Peoples Congress (OPC) in Oyo State on Monday.
Some sources said the assailants, wearing T-shirts with OPC inscription and carrying weapons, stormed Elekokan in Igangan in Ibarapa North Local Government Area where they shot the victims to death.
The attack was launched less than 24 hours after the Yoruba leaders in the community accused some Fulani herders of killing some people and burning their houses in Igangan.
Our correspondents gathered that during Monday's reprisal, four Fulani herders were killed at Elekokan village.
The victims included; Alhaji Dako Usman (60), Bello Sulaiman (36), Alhaji Adamu (45) and the 75-year-old community leader known as Seriki.
Sources said about 30 members of OPC invaded the village on motorbikes and attacked the herders.
One of our sources said the OPC members stormed the village with different firearms and other weapons, killed the four people and injured many others in what appeared as a deliberate move to sack the herders from their dwellings.
Our source said the case was reported to the police while the corpses of the victims have been deposited at Fadoks, a private morgue in Iseyin.
When contacted, the Oyo State Police Public Relations Officer, Adewale Osifeso, denied the incident but said police officers had been deployed to the axis.
"I am not aware of this information. Police and other security agencies are already on the ground in the communities," he said.
However, another credible security source confirmed the incident saying the Ayete Police Division in Ibarafa North had received information from Elekokan Police Station that about 30 assailants wearing clothes with OPC inscription attacked Fulani communities and killed four people.
The leaders of Miyetti Allah Cattle Breeders Association of Nigeria (MACBAN) in Oyo and Ogun states told said that OPC members had been attacking Fulani communities since Sunday's attack on Igangan.
MACBAN's chairman in Oyo, Alhaji Ibrahim Abubakar Jiji, said that they were trying to recover the bodies of the Fulani herders killed by the OPC members.
"As I am talking to you, we are at the mortuary. They killed four people including the Fulani community leader. I am making a passionate appeal to security agencies to conduct security meeting with the traditional rulers in the region and Fulani leaders for peace to reign," he said.
His counterpart in Ogun State, Alhaji Ibrahim Abubakar Dende, condemned the attack on their people who he said had no hand in the recent security breach in Oyo.
He also urged the authorities to do a thorough investigation and fish out the perpetrators of Monday's assault.
"The Fulani settlers in Oyo and neighbouring Ogun states are not happy with the attack. We don't know anything about the attack but it appears we have become the target of some OPC members who are now attacking us in a manner that appears to be a misdirected reprisal.
"Apart from the people killed, the house of Alhaji Sajo, an Islamic cleric who has been in Igangan town for over sixty years was attacked on Monday and he was abducted.
"Some are saying they have killed him and burnt the corpse to ashes.
"His storey building was set ablaze. He is not a herder; he is a cleric who attends to people from Lagos and Ogun states. He is more of Yoruba as he has been with them for long," he said.