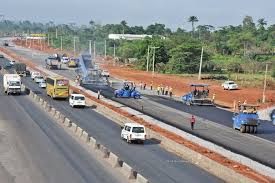 Hundreds of youths from Eleme and other communities in Rivers State, who had laid siege on a section of the east-west road in Rivers State on Sunday evening suspended the protest and will vacate the road at midnight.
The protesters, our reporter learnt, suspended the protest following the assurance given by the Chairman of Eleme Local Government Area, Obarilomate Ollor, that the contractor awarded the contract for the reconstruction of the road have been mobilised to the site.
Ollor, who spoke to reporters at Trailer Park, Ejamah, Ebubu Eleme, where the contractor deployed its equipment to begin work, said the decision to suspend the protest was taken after a painstaking consideration of a number of factors, which included the need to allow work commence on the road, the suffering of the people as well as the collapse of business activities in the area.
He said that if action is not taken to reconstruct the road within a stipulated period of time, the people would not hesitate to return to the road.
He lamented the deplorable condition of the road, which links major ports and industries in the area as well as Akwa Ibom, Cross River States and several local government areas.
One of the organisers of the protest and the Executive Director, Youths and Environmental Advocate Centre, Fyneface Dumnamene, said that the protesters will vacate the road by midnight on Sunday.
He said that the protesters would return to the road in 14 days time if nothing serious is done on the road.
The youths had been on the road since Monday, July 26th after two ultimatums the local government gave to the federal government to rework the road were not heeded.
The siege on the road subjected passengers and commuters to long trekking as well as the collapse of business activities in the area.
The Minister of Niger Delta Affairs, Godswill Akpabio, last week Thursday said the government had released N2.5billion to the contractor to move to the site, while efforts would be intensified to source the N85 billion needed to complete the project from the Sovereign Wealth Fund.